Published by ashley on Friday, March 02, 2007 at 1:45 PM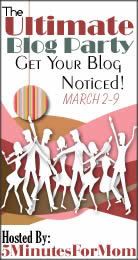 Thank goodness it's Friday! Time to party!!

All this week is the Ultimate Blog Party! To celebrate, we decided to do a complete blog redesign, including a special header just for this week! :-) We look forward to meeting some new people, and exploring other great blogs.

For those who don't really know us, we are Beth and Ashley. We met in 7th grade at a small Christian school, where we quickly became close friends. Ashley moved away a year after we met, but we've kept in touch since then and have always been able to pick up just where we left off!

We are both Christians, married, and pre-children. We love cats, the 1940s, and hot tea. Beth lives in Texas with her hubby and cat Lucy, working as a cancer research assistant. Ashley lives in Georgia with her hubby and 2 cats and puppy, and she works as a graphic designer at a local advertising agency.

We started this blog because we both like to write, but didn't necessarily have time to keep this blog up full-time by ourselves (in addition to our personal blogs). We enjoy the Christian blogging community, but we wish there were more blogs that were in the same place in life as us. While we are both intending to be mothers in the future, currently we are both working outside the home full-time. We would love to meet other working Christian wives, so if you are one please introduce yourself! We find it's a challenge to balance working full-time with taking care of our homes (no matter how small they are!), and we would love to know how others are able to do it.

We'll be posting more this week, so be sure to come back to read more!

Other party posts:
It Figures
Puppy Chow
Musical Meme
It's Been Fun

See more party participants at 5 Minutes for Mom


22 Comments:
3/02/2007 2:15 PM

 

What a wonderful journey the two you have been on. Life long friends are special!

I'm so glad you have joined the Blogging Party--I think I've been to your site before....but nice to visit nonetheless.

Stop by my blog when you have a moment....happy party-hopping!

Diane

3/02/2007 2:59 PM

 

Ashley! You went all-out in decorating! Awesome!

3/02/2007 3:16 PM

 

Great blog! I love the fact that you blog together. Nice "meeting" you!

3/02/2007 5:09 PM

 

That's so cool that you blog together! Great blog!

3/02/2007 5:23 PM

 

It's nice to meet y'all! :)

3/02/2007 9:17 PM

 

Hi from a Texas girl living in Alabama. Nice to meet yall.

3/02/2007 10:50 PM

 

3/03/2007 12:11 PM

 

That is so great that you are able to do this together even being states apart!

3/03/2007 1:00 PM

 

Party hoppin', love the new look for the week! Your friendship story is so cool! It is neat to hear that you two have stayed close friends after only known each other for a year. Fabulous!

3/03/2007 1:16 PM

 

Love your header! This site looks fantastic. I'm having a great time seeing all of the blogs!

3/03/2007 4:58 PM

 

What a fun thing that you do this together! Friends are truly a treasure to cherish!!

Here via the blog party. Thanks for inviting us to your place!! It was a lovely visit!

3/03/2007 9:59 PM

 

The header is awesome! I too love the 1940's and anything retro.
Glad to have met you at the party!

3/04/2007 11:08 AM

 

Swinging in for the Ultimate blog party. Nice to meet ya.

PARTY ON!!!

My first party favor giveaway has begun. Come over when ya get a chance.

3/04/2007 11:17 AM

 

Just dropping in from Romania! Have a great party week.

3/04/2007 7:26 PM

 

GREAT redesign!! Enjoy the party!!!

Heather

3/05/2007 2:32 AM

 

Nice to meet you both! I too love the 1940s!

3/05/2007 1:22 PM

 

Thanks for visiting my party! It's not nearly as fun as yours! So cute! Ashley, we have nearly identical taste in books, I learned from your blogger profile. :)

I'll be back for more fun! (Hopefully will be wearing slumber-party clothes by the time I come back tonight!)

3/05/2007 11:31 PM

 

Hi Beth and Ashley nice to meet you both. what a neat way keeping a blog. Im not working yet but am suppose to be by the end of the year
blessings

3/06/2007 4:03 PM

 

How wonderful that you are treasured friends. Ashley, I ran across you while you were visiting el-e-e at hello, self. I don't run across too many people from GA online, so I wanted to say hello. What beautiful red hair you have. We are a kindred spirit as Anne would say.

Beth it is also nice to meet you and what wonderful work you do being involved in cancer research. Being a cancer survivor that is always of interest to me. My best friend is moving back to TX where she is from after 14 yeras here in GA.

Well girls, I hope I qualify even though I am not remarried yet. I am divorced and while 38 I still have not given up hope on being a mommy one day soon. My Sweetheart and I will be getting married later in the year and then I will official be a working wife again.

I enjoyed your blog and will be back for more.

Have a blessed week and don't party too much.

Lyndy

3/07/2007 6:07 PM

 

Hey Guys,

So I'm ahead of you a few years in the fact that I have 3 preschool kids...but I thought I would still say hello.

I think you guys are TU graduates, right? Me, too. I graduated in 1996, lived in 1EO.

I enjoy your blog.

3/09/2007 5:28 PM

 

Hello! Best friends ... how wonderful. I thought at first I was at another sister blog! =) But this is even more special.
I had very little time as a wife before having children, so I don't have much to say on that, other than, just love your husband, be open and honest, nad well if the house isn't always clean, at leart you will always be in love!

3/10/2007 11:03 AM

 

Just popping by for the Party (late)! Great blog, and I've not seen a best friends blog too often!

Please visit me at womanwithmanyhats.com (not my blank Blogger one). I have festive exploding bubbles!